FIREFLY MSK WORKSHOP 2018
October 20th | Sligo, Ireland
Build your confidence and broaden your scope of practice at the Firefly MSK Workshop.
October's Firefly MSK Workshop is fully enrolled. We are planning to host our next Workshop in February. Join the mailing list to find out when enrolling begins.
The 'Firefly MSK Workshop is a one-day theoretical and practical CPD event, designed to provide podiatrists with the ability to assess, diagnose and treat a range of MSK pathologies with confidence. Through our undergraduate degrees and our professional clinical experiences, we all have a core understanding of anatomy, basic understanding of MSK and knowledge of common pathologies. This workshop aims to build on this foundation knowledge, so you can deliver better patient outcomes.
Through evidence-based presentations and hands-on activities you will gain a deeper understanding of current theories, diagnostic tests, management, prescription writing and clinical gait analysis – giving you the confidence and ability to treat complex foot and ankle pathologies,  extending your scope of practice, progressing as a more experienced MSK podiatrist.
Workshop Schedule
MORNING SESSION I
8.30 – Evidence Based Practice – Alignment Vs Force
9.30 – MSK Assessment
MORNING SESSION II
11.30 – Fundementals of Gait Analysis
13.00 – LUNCH
AFTERNOON SESSION I
14.30 – Treatments Using Custom Made Foot Orthoses & Richie Brace
AFTERNOON SESSION II
16.00 – Case Study Session
17.30 – Reflection, Questions and Thoughts
18.00 – Finish
Objectives
WORKSHOP OBJECTIVES
Gain deeper understanding of how orthoses work (alignment vs force, theories, mechanics)
Be able to carry out vital MSK tests (non-weight bearing, weight bearing, functional)
Introduction to clinical gait analysis (movement patterns, injuries associated, 2D and 3D)

To have a greater understanding of Custom-made Foot Orthoses and Ankle-Foot Orthoses role in rehabilitation and treatment.

Understand and Utilise effective communication within an MSK Multi-Disciplinary Team

Suitable for private and HSE practitioners
Meet the Speakers
GREG GILLANDERS,
BSC (HONS.), MSC, MCHS, MFPM (GLASG.)
Greg is a Musculoskeletal Podiatrist with a particular interest in advanced biomechanics. He's an expert in the area of bracing therapy as a conservative treatment for complex foot and ankle disorders. At the Firefly MSK workshop he'll lift the lid on selecting and prescribing the most appropriate Ankle Foot Orthotic (AFO) to treat, manage or rehabilitate the patient pathology.
ADAM MC ILWAINE,
BSC HONS, PG.CERT SPORTS BIOMECH MED
As a Sport Podiatrist, Adam specialises in injury prevention and rehabilitation for elite athletes. Focusing on lower limb overuse injuries with a mechanical
aetiology. Adam is the king of clinical anatomy tests and during the Firefly workshop he will teach a range of evidence-based MSK assessment techniques, equipping you with diagnostic tools and tips.
MARTIN MC GEOUGH,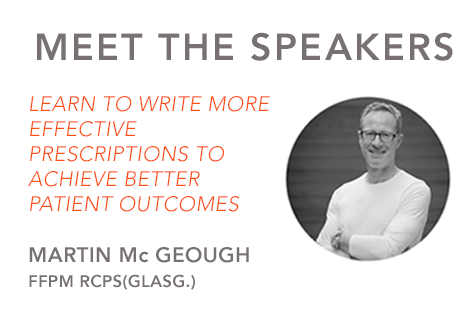 FFPM RCPS(GLASG.)
A Member of the Royal College of Physicians, Glasgow, Martin has over 27 years experience in clinical biomechanics. His podiaty expertise has been called upon by Premier League football clubs and he regularly guest lectures at Universities across the UK, Ireland and Europe. Martin is seen as a key opinion leader in the field of podiatric biomechanics – at the Firefly workshop he will reveal his clinical gold in the art of prescription writing and orthotic design.
CPD ACCREDITED
The workshop is fully CPD accredited by the Royal College of Physicians and Surgeons of Glasgow.
SMALL CLASS SIZE
To ensure you get the most from the workshop and to maximise your time, places on the workshop will be limited and allocated on a first-come-first-served basis. The workshop is highly practical with lots of hands-on learning and class size are deliberately small to maximise attendees value.