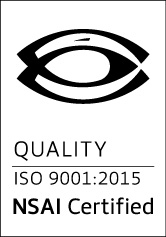 We're delighted to announce Firefly Orthoses Ltd has been awarded I.S. EN ISO 9001:2015 by the NSAI.
The National Standards Authority of Ireland describes ISO 9001 as:
ISO 9001 is the world's foremost quality management standard, used by hundreds of thousands of organizations in over 170 countries around the globe. It sets out the essential requirements for a practical and effective quality management system (QMS) which is, in essence, a system for minimising risk and maximising opportunity. ISO 9001 is used by a diverse array of organizations, from giant multinational corporations to local community groups.

The standard is the first port of call for almost all organizations, large or small, public or private, that have decided to strengthen, streamline or review their management procedures. It can be used to focus on improving performance in a particular department, plant or site. However, it is generally most effective when implemented throughout an organization at every level.
The award recognises Firefly Orthoses' excellence in quality management systems. For our clients, this means they can have confidence that Firefly's procedures, products and services meet with the highest international standards.
https://www.fireflyorthoses.com/wp-content/uploads/iso9001.png
450
845
Conor
https://www.fireflyorthoses.com/wp-content/themes/firefly/images/firefly-custom-made-foot-othoses-logo-black.png
Conor
2019-01-24 15:49:53
2019-01-24 15:49:53
FIREFLY ACHIEVES ISO 9001:2015 CERTIFICATION