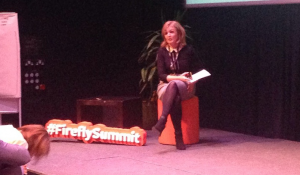 It's estimated 20% of patients who present at podiatry clinics complain of heel pain; a perfect reason as to why you need to watch Eileen Dolan's Firefly Summit rapid-fire presentation.
Confusion Treating Plantar Pain
Discover why there is a school of thought suggesting plantar fasciitis should be categorised as two separate conditions.  With a myriad of treatments available, coupled with a lack of consensus from guidelines on how plantar fasciitis should be treated, Eileen explores injectable treatments, providing a systematic review of botox and PRP.
Key Concept
Despite the many treatment options available to the podiatric practitioner, Eileen says that 80% of plantar fasciitis conditions resolve within 12 months with conservative therapies – when the patient follows prescribed strengthening and conditioning exercises.
About Eileen Dolan
Eileen Dolan is an Advanced Podiatrist within the Orthopaedic ICATS team in the Western trust. She also works in a private practice in the neighbouring county town of Enniskillen specialising in MSK and Orthopaedics.
Eileen has an MSc in Advancing practice with postgraduate qualifications in Biomechanics, Diabetes and Vascular disease. She is a member of regional special interest groups for ICATS, MSK and Rheumatology.
ABOUT THE FIREFLY SUMMIT 2017
When we designed the Firefly Summit 2017 we wanted to create a podiatric event like no other. We invited 11 female and 10 male speakers to Sligo. Selected for their expertise and hands-on experience, these top clinicians collaborated on topics to deliver world-class podiatric presentations communicating their 'clinical gold' to the Summit delegates.
It wasn't all podiatric talk. To keep things interesting, all 200 delegates and speakers immersed themselves in the beauty of the wilds of Ireland's north west coast, taking part in surfing, hiking, stand up paddle-boarding and seaweed baths – WOW!
Don't miss out!
Interested in finding out more about Firefly's products and industry leading technical support? Click or tap the button below.
https://www.fireflyorthoses.com/wp-content/uploads/e-dolan.png
469
803
Conor
https://www.fireflyorthoses.com/wp-content/themes/firefly/images/firefly-custom-made-foot-othoses-logo-black.png
Conor
2018-05-14 16:54:40
2018-05-15 10:03:19
Eileen Dolan: Heel Pain Treatment – Cortisone, PRP or Botox A