What if you could chat with the UK's top podiatrists over a glass of wine? What if they shared their "clinical gold" in practical quickfire presentations? What if you could spend the afternoon hiking, surfing, or golfing with those very same people? Or the evening at one of Ireland's oldest pubs?
This year's event promises to be distinct. The Firefly Summit 2017: Podiatric MSK will see 24 of the profession's top minds, 12 female and 12 male, join over 100 delegates in Sligo, Ireland's adventure capital and home of Firefly Orthoses.
Across September 29th and 30th, you'll have the opportunity to acquire CPD points through a series of quickfire lectures. Learn from the UK and Ireland's most renowned podiatric consultants and practitioners as they share their hands-on clinical practices. Advance your professional expertise by learning their "Clinical Gold".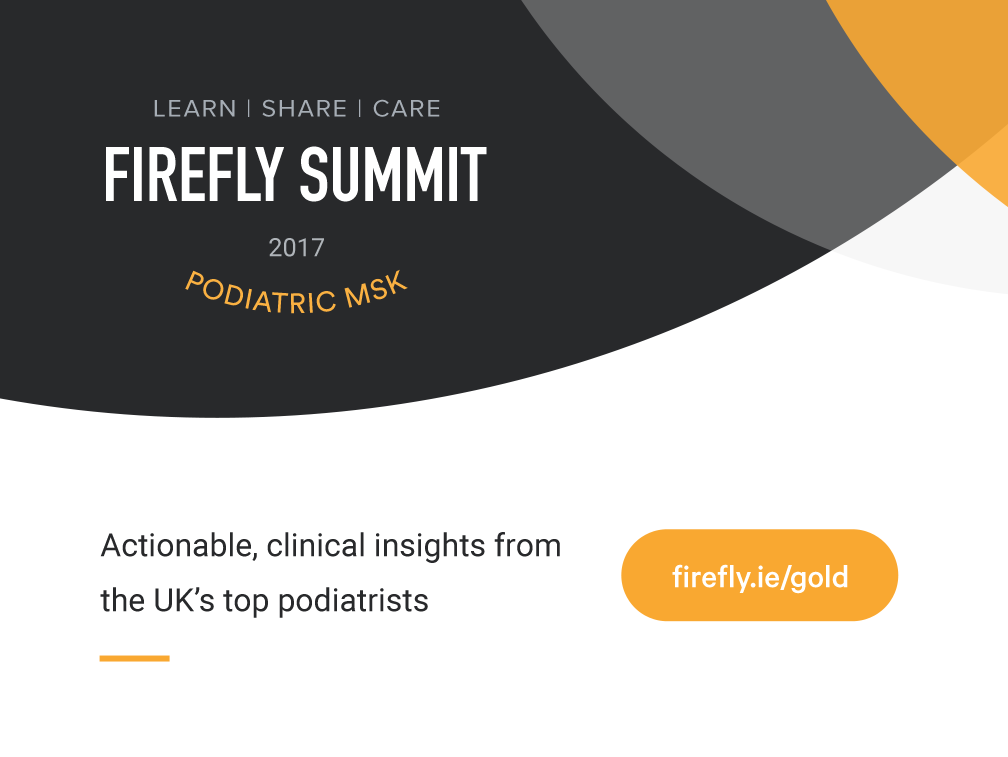 The Firefly Summit seeks to connect you to these leading minds by removing the barriers of traditional conferences. A world famous surf spot, a renowned hiking destination and home to the world's finest links golf courses, in Sligo you'll get to dialogue with Podiatry's best in relaxed atmospheres both in and out of the conference environment.
THE SPEAKERS
Emma Cowley, Sarah Davies, Hannah Yirrell, Emily Ball, Katherine Cook, Sarah Cameron, Sophie Roberts, Eileen Dolan, Claire O'Kane, Ruth Mackie, Diane Nicholl, Nicola Blower, Ian Griffiths, Nick Knight, Jon Palmer, Trevor Prior, Wayne Edwards, David Cashley, Glen Foley, Martin Mc Geough, Kevin Catterall, Kevin Catterall, Mark Smith, John Chadwick, Greg Gillanders.
Perched on the edge of Europe, Sligo is Ireland's hidden jewel. Framed by spectacular mountains and the roar of the Atlantic ocean the landscape has a record of drawing creative spirits, leaving an indelible influence on those who visit. And with direct flights from London, Manchester, Birmingham and Edinburgh to Ireland West Airport, Knock, escaping to Sligo is a breeze.
This year we wanted to make the summit experience a little more collaborative. Not only are the speakers already discussing topics, but they want to know what you're interested in hearing about.
To make the event as relevant to you as possible we're taking your suggestions as part of the registration process. Have your say by joining the waitlist now.
 Education is not the filling of a pail, but the lighting of a fire – W.B. Yeats
Tickets for the this year's summit are available soon. Register for the waitlist to learn when, and you'll enter yourself to win 1 of 100 free tickets. Numbers are limited, and we'll soon close entry, so sign-up now.
https://www.fireflyorthoses.com/wp-content/uploads/summit-feature-image.png
564
861
Conor
https://www.fireflyorthoses.com/wp-content/themes/firefly/images/firefly-custom-made-foot-othoses-logo-black.png
Conor
2017-02-08 12:10:44
2017-02-08 14:20:03
FIREFLY SUMMIT 2017: PODIATRIC MSK