Firefly is delighted to announce the launch of our sustainable 3D printed (S3DP) range of custom foot orthoses.
This range of product is in keeping with Firefly's company-wide acknowledgement that we have a responsibility to manufacture products that use both sustainable materials and processes that are less damaging to our environment.
The launch of our S3DP range follows our move, earlier in 2020, to shift from standard plastic packaging in which our products were shipped, to a more environmentally friendly oxo-biodegradable option. A decision that has been welcomed by our customer base.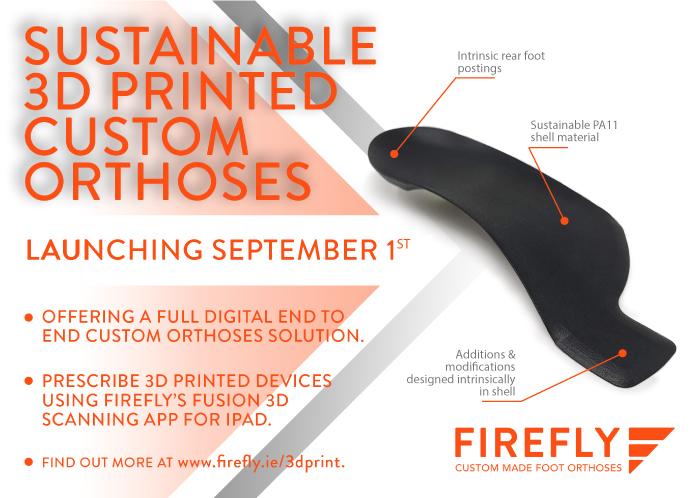 A new orthotic option
The 3D printing manufacturing process paves the way for Firefly to create new and exciting unique orthotic designs. These features include intrinsic forefoot extensions and intrinsic rear-foot postings.
How to Order
Firefly's sustainable 3D printed orthoses can be ordered via our FUSION app by selecting '3D printed' on the shell material drop down menu.  Or, you can use our traditional order form too, simply write 3D printed on you order form if 3D printed is not available.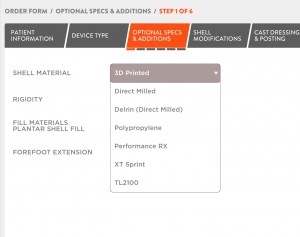 Precisely located additions & modifications
Our Sustainable 3D printed devices combine excellently when prescribed using Firefly's FUSION 3D scanning and prescription writing app for iPad. Additions and modifications can be precisely located within the orthotic device. By clearly marking the patient's foot with a marker that contrasts with their skin, FUSION will capture the marks as part of the scan. The dots on the image below indicate where the podiatrist requires a fascia groove to begin and end. In this instance, the podiatrist has used a green chalk marker that shows clearly against the skin.
When scanning the foot with the FUSION app, these marks are then captured on the patient's anatomy within FUSION's 3D digital image preview, as seen below.
Finally, when the scans and prescriptions are submitted to Firefly for manufacture, our digital design team are presented with a 3-dimensional image where the location of the fascia groove is mapped precisely within the orthotic design.
This process is the same when positioning other features such as met pads and met bubbles.
PA11: sustainable material
PA11 is a cost-effective and eco-conscious material that is leading the way in the additive 3D print manufacturing landscape. PA11 is called upon to perform in extreme automotive, oil and gas and sporting environments and is now available as your sustainable 3D printed orthotic shell material.
Firefly's S3DP orthoses are manufactured in a powder-bed fusion process. One of the manufacturing benefits of PA11 is that up to 50% of the unused material in the fusion process can be recycled and applied in future builds, which means much less waste when compared to other materials traditionally used in the 3D printing process.
A plant-based polymer
As PA11 is a 100% plant-based polymer made from sustainable castor oil.  Firefly now offers you and your patient an orthotic product that aligns with our shared social and corporate responsibility to find solutions that help protect all our futures.
We're launching this new sustainable range on September 1st. Orders for these devices can be placed by using the FUSION app. For more information, contact our technical support team.